ABOUT ELLMAN'S MUSIC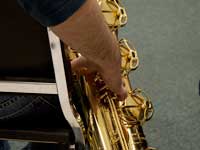 History
Ellman's Music Center was founded in 1958 by Gil Ellman. For over fifty years we have remained committed to our founding philosophy: provide quality instruments from reputable manufacturers and stand behind those instruments by offering exceptional service.
Gil, a former professional saxophonist, apprenticed for several years with renowned Chicago repair technician Leo Cooper. His expertise landed him a job as instrument department manager at Chicago's Carl Fischer Music. Gil's wife, Joan, studied music education at DePaul University and taught music for more than 25 years.
Originally located in Chicago's Loop, we moved our store to Naperville in 1963. Our goal is to provide customers, whether student or professional, with the best possible tools to become accomplished musicians. It has been our privilege to provide thousands of people with the knowledge and skills needed for a fun, exciting, and successful musical experience.
Ellman's Music Expertise
One of Ellman's greatest strengths is its knowledge of the needs of school music programs. As a major supplier to many area schools, we offer a complete line of high-quality school instruments from a wide variety of reputable manufacturers. Gil's extraordinary repair skills were a foundation for the business in 1958, and that legacy continues today. An award-winning, 4100 square-foot, on-site repair facility provides service for all band and orchestra instruments as well as guitars.
Music plays a vital role in the Ellman family. Gil and Joan's children, Mike, Sue, and Pete, grew up involved in the day-to-day operation of the store and now that Gil and Joan have retired, Mike and Pete run the store. Each are professional musicians with over 28 years experience.
The Ellman's Music Center staff offers instruction and expertise in all band and orchestra instruments. We are well-versed in the difficult choices musicians and musicians' parents must make.
Charitable Causes
Ellman's Music would like to see every child have the opportunity to be involved in the wonderful world of music. For that reason in May of 2010 the Ellman family set up the Gil Ellman Memorial Fund through the Naperville Education Foundation. The purpose of this fund is to give students who cannot afford an instrument the opportunity to have rich and exciting musical experience. Donations to the Gil Ellman Memorial Fund can be sent to Ellman's Music Center – 508 W. 5th Avenue –Naperville – IL -60540 or NEF – 203 W Hillside Rd – Naperville – IL – 60540. Make checks payable to: Gil Ellman Memorial Fund.
In January of 2009 the Pete Ellman Big Band NFP was established with the mission of providing a place for students to listen to and perform big band music. In addition they have provided numerous clinicians to schools to work with students prior to their performance. In a collaborative effort, this last school year, two schools received commissioned pieces for their jazz ensembles provided by PEBB and Ellman's Music Center. Schools from all over northern Illinois join the Pete Ellman Big Band each school year