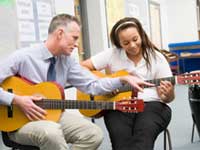 Ellman's Music Center offers music lessons for students at every level, on a full range of instruments.
Our talented, and experienced instructors look forward to meeting and working
with you.
Roger Ingram
Trumpet
Roger is a top call lead trumpet player who has traveled the world as a performer and clinician.
He has performed or recorded with a veritable "Who's Who" of international entertainers including Wynton Marsalis, Ray Charles, Maynard Ferguson, Paul Anka , Tom Jones, The Woody Herman Orchestra, Louis Bellson Big Band and many others.
He can be seen performing all over the Chicago area.
Luke Malewicz
Trombone
As a freelance Trombonist/Educator Luke Malewicz received his Bachelors degree in Music in Jazz Studies in 2006 from Indiana University in Performance Studies. He went on to earn his Masters degree in Jazz Arts from Manhattan School of Music in 2009.
His performing experience includes the following: •Grammy Award Winning Vanguard Jazz Orchestra (New York, NY) •Lead trombone with the Buddy Rich Tribute Big Band (Led by Cathy Rich) •Guest artist at Northern Illinois University •Live Performance on WGN with Under The Streetlamp •Harry James Orchestra 2010 Tour - Lead Trombone •Taste of Chicago with the Tim Seisser Quintet •Buselli/Wallarab Jazz Orchestra (Indianapolis IN) •Rob Parton Big Band •Jeff Lindberg's Chicago Jazz Orchestra •Chicago Metropolitan Jazz Orchestra •Pete Ellman Big Band
His teaching background encompasses guest lecturering at Indianna University and Columbia University. Luc Malewicz also offers private studio teaching in the Chicagoland area in theory, improvisation, composing/arranging, as well as teaching trombone to beginning college students.
I enjoy listening to everything from classical, jazz, to popular music because you can find inspiration in all kinds of music. Visit Luke Malewicz's website.
Carrie Tedrahn
Piano
With a specialty teaching piano, Carrie Tedrahn is the director and owner of Early Notes Music Studio. She began teaching Kindermusik at Benedictine University in January 1997 when she opened the studio. She is an active percussionist performing with the St. John Brass Ensemble and various local orchestras on an as needed basis. She earned a Bachelor of Science degree from Elmhurst College and earned her MBA at Lewis Univeristy.
In addition to her private studio classes and lessons, Carrie has taught Pre- K -2nd grade classroom music at St. John Lutheran School in Wheaton, IL. She has volunteered her time to work with School District 200's early childhood intervention program teaching the Kindermusik program in the late 1990's. Carrie is a member of the Early Childhood Music and Movement Association (ECMMA) and Music Teachers National Association (MTNA). Recently, Carrie has added playing organ for worship service in local Lutheran churches to her repertoire of skills.
Her favorite music selections include Classical, Sacred, Jazz, and Pop. She loves variety and balance.
Deb Zelman
Clarinet and Saxophone
Deb Zelman is an authoritative and musically versatile multi-instrumentalist and singer with a multi-decade career of interpreting the great musical voices of the 20th century. She preforms as principal clarinet in the DuPage Symphony and in Zazz jazz combo as well as various small and large ensembles.
Ms. Zelman enjoys teaching students of all ages and skill levels.
Aaron Krueger
Electric and Acoustic Guitar
Aaron has been teaching guitar lessons for over 15 years in the Chicago suburban area. His students range in age from 5 years old to adult and range in levels from beginner to professional. Aaron also has experience working with students with special needs. Aaron teaches several musical styles including: jazz, latin, blues and rock. Aaron also teaches techniques for solo guitar, duo, trio and big band.
Aaron received a Bachelor in Arts degree (Jazz Guitar Performance) from Columbia College - Chicago. While attending Columbia College, he studied jazz guitar with Frank Dawson. He has also studied with John Papadolias and Don Tisch.
Aaron is an active professional guitar player working with several groups throughout the Chicago area including performances at such notable venues as Andy's Jazz Club and the Jazz Showcase.



Michael McGuan
Violin and Viola
Having begun playing the violin at the age of 5, Michael has literally been playing the violin nearly his entire life.
He received a Bachelor of Arts degree in chemistry from St. Olaf College, where he was a member of the St. Olaf Orchestra. During his senior year of college, Michael performed as a soloist during the orchestra's fall tour.
Recently Michael completed his Master of Music degree in Violin Performance from Northern Illinois University. While at NIU, he taught violin lessons through the NIU Community School of the Arts and performed with the Illinois Valley Symphony Orchestra and the Northern Illinois Chamber Orchestra.
Michael is a 2 time winner of the NIU Chamber Ensemble Competition and currently plays with Camerata Chicago and the Antiqua Baroque Consort as well as subbing with the Fox Valley Orchestra.
In addition to performing, Michael enjoys sharing his passion for music with young people. He is a registered Suzuki instructor and has experience working with students of all ages and ability levels.
Ellman's Music Center is glad to have Michael as a member of our teaching staff!
Sunica Markovic
Piano
Sunica Markovic has 16 years of experience teaching piano in Europe, starting in 1987. Her favorite music is classical compositions. Read more about Sunica Markovic.
Timothy Omerod
Saxes, Flute, Clarinet and Double Reeds
Timothy Omerod began his musical career on the tenor saxophone. He received his B.M. degree in bassoon from Chicago Conservatory College in 1978, and his M.M. degree in bassoon from Northwestern Univrsity in 1979 .During his undegraduate tenure, Tim was listed in the Who's who in American Universities and Colleges.
After college, he studied the clarinet, flute, sax, and oboe with professional players from the Chicago area. He has performed in a variety of venues, including principal bassoon with the Fox Valley Symphony, and sax/flute/clarinet/keyboards/vocals in top forty bands and shows, for clubs and hotels across the Midwest. His performances include Marriot Licolnshire shows, and Ray Charles last show in Chicago. Tim directed the College Jazz Ensemble at Lewis University, and is currently adjunct instructor of sax at the College of DuPage.
He has composed several solos suitable for middle school students, and is currently writing original pop music and lyrics for competition and distribution. Tim continues as a teacher, composer, and free-lance woodwind musician, performing in shows, jazz, top forty, and various jobbing dates throughout Chicago and the Midwest. To contact Tim call (630)254-6285 or email him at [email protected]
Constance Reynolds
Violin, Viola, Cello
Ms. Reynolds is a retired, public school orchestra director that has taught at all levels from elementary school through high school, being honored as a Grammy Award Nominee for Outstanding Music Educator. See is a certified Suzuki Violin and Cello instructor having started students as young as three years old.
Ms. Reynolds has a Bachelor's Degree in Music Education and a Master's Degree from Nazareth College in Rochester, NY.
She is a professional violinist that has performed and/or conducted orchestras across the United States and Europe.
Michael Mongolis
Piano
Mike has been teaching piano at Ellman's Music for several years. He earned BM - Theory and Composition and BM History and Literature degrees from Illinois State University in Normal, IL. Mike has been teaching private piano lessons since 1995.
Mike is in demand and receives high praise from his students.
Rob Loar
Trumpet and Guitar
Rob began his professional career serving with the United States 3rd Infantry Division Band in Wurzburg, Germany. He performed as both trumpet player and vocalist. After his tour of Europe was over, he studied music theory and education as well as trumpet performance at the University of Illinois.
For the past 20+ years, Rob has been a performing professional musician in and around the Chicago area, sometimes playing as many as 20 dates a year. He currently manages and leads the band Soda, which performs at weddings, festivals, private events and clubs in the metro area.
For trumpet instruction, Rob stresses the fundamentals of breathing, articulation and technique and works to help the student develop the proper interpretation of the stylistic elements of the jazz and classical repertoire. For guitar instruction, Rob presents a populist approach that looks to have the student learn and play current and classic songs within a very short time.
Jered Montgomery
Trumpet, beginning band instruments
Jered earned a BM in trumpet performance from Southern Illinois Univerisity in Carbondale and his Masters in trumpet performance from Roosevelt University.
Jered performs with many symphonic and musical theater organizations throughout the Chicago area. Credits include Chicago Symphonic Winds, Chicago Composer's Orchestra, Porchlight Theater, Bailiwick Theater and Wunderbrass.
Jered is a high-energy teacher who really gets the most out of his students.
Earl Talbot
Drums and Percussion
A Chicago area native, Earl has traveled the globe studying and performing music.
He recorded and toured as the drummer for Poi Dog Pondering, attained multi-platinum status as a member of the Nomads and composed music for Harpo Productions.
He has settled in the Naperville area and is happy to be teaching lessons here at Ellman's Music Center.
Mike Semerau
Drums
Mike has been teaching drums since 1995. He brings a well-defined curricula that he has honed over the years. Mike is always tweaking and adjusting the ways to get his points across quickly and effectively.
Each lesson is professionally recorded onto a DVD that the student takes home and may use to aid in their weekly practice sessions.
Mike has been a clinician for the Chicago Vintage Drum Show and continues to perform live.